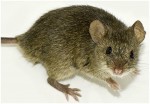 What would happen, hypothetically, if a baby mouse could grow up eating only deuterated food and water? Could you make an unusually heavy mouse?
Isotopes
The concept of a deuterated mouse requires a little explanation about isotopes. (Skip this section if you already know what an isotope is.)
The identity of any particular element is decided by the number of protons (positively charged particles) that the atom contains in its nucleus. For example, all carbon atoms – by definition – contain 6 protons. All oxygen atoms contain 8 protons, and all hydrogen atoms contain just one proton.
However, some carbon atoms are heavier than other carbon atoms. The same is true for hydrogen, oxygen, and all the other elements as well. This is because the mass of an atom takes into account not only protons, but another type of nuclear particle called a neutron (which weighs about the same as a proton). Most carbon atoms contain 6 neutrons in addition to their 6 protons, but some carbon atoms contain 7 or even 8 neutrons.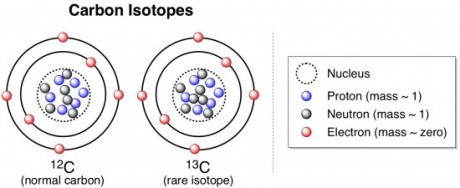 Thus, you can say that carbon exists as three different isotopes. Same element, different mass. There's 12C (pronounced "carbon-twelve"), which is the most abundant carbon isotope in the universe, and has a mass of 12units = atomic mass units because of its 6 protons and 6 neutrons. Then there's the more rare 13C, which has 6 protons and 7 neutrons, and the really rare and radioactive 14C, with 6 protons and 8 neutrons.
Deuterium
Like carbon, hydrogen exists as more than one isotope. Most hydrogen atoms contain zero neutrons in addition to their one proton, but about 1 in every 6400 hydrogen atoms contains a single neutron as well. This heavy isotope of hydrogen can be called 2H, but it is commonly referred to by the name "deuterium" or "D". Whereas most hydrogen atoms have a mass of 1, deuterium weighs (nearly) exactly double, with a mass of 2. Thus, although water made with deuterium (D2O) looks and tastes just like regular water, it is called "heavy water" because each molecule weighs substantially more.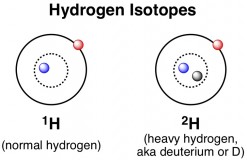 A Heavy Mouse
Like any life form, mice contain a lot of hydrogen atoms. Besides all the H2O in and around the mouse cells, nearly every other molecule in a mouse's body includes hydrogen atoms.
So what would happen if a mouse ate only deuterated food and water? Instead of drinking H2O, the mouse drank only D2O. Instead of eating normal proteins, the mouse ate only protein made from amino acids whose hydrogens had been replaced with deuteriums.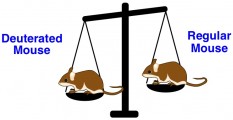 The baby mouse would grow up to be a heavy mouse, right? Not a fat mouse, just a more dense mouse. About 10% of a mouse's weight is due to hydrogen atomsat least, this is the figure Wikipedia cites for a human body. Thus, replacing all the hydrogen atoms in a mouse's body with deuteriums would result in a 10% weight increase, since deuterium weighs twice as much as hydrogen.
So, a 20 gram mouse would weigh 22 grams if he were deuterated.
A couple extra grams might not sound like a lot, but it's equivalent to a 150 pound person putting on 15 pounds, without having to go up a clothing size!
The Problem with Deuterating a Mouse
To cut to the punchline, a mouse (or any mammal) couldn't live off of only deuterated food/water. Cellular functions don't work when all, or even half, of the body's hydrogens have been replaced with deuterium.
But why not? Deuterium is still hydrogen. It's not a unique element – it doesn't get its own position on the periodic table. It's not radioactive. Any bond that hydrogen can make, so can deuterium.
It turns out that chemical bonds involving deuterium atoms are a bit slower to break than bonds involving hydrogens.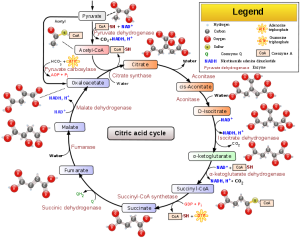 And bond breaking is very important for life. The bonds between atoms in food and water molecules have to get ripped apart so that a mouse body can reassemble the atoms as muscle tissue or brain cells. Every single metabolic pathway you can remember having to memorize in biology class (Krebs cycleaka citric acid cycle, on the right) requires numerous bond breaking events.
The timing of all these chemical reactions has to be just so for everything to work right. Thus, if the rate of bond-breaking is slowed down significantly, cells won't be able to function properly and will start to die.
Kinetic Isotope Effect
The reason that bonds involving deuterium break slower than those involving hydrogen has to do with a concept called a kinetic isotope effect (KIE). This concept is an absolute favoritesecond only to, perhaps, Hammett plots of physical organic chemists.
The idea of a KIE goes something like this. A bond between any two atoms can be thought of as a spring, with an atom attached to both ends. This spring is constantly stretching and contracting, in and out, over and over. Some bonds stretch and contract very quickly and frequently, like a really bouncy spring. Others are slower, with fewer stretches happening over a given period of time.

If you think about it, the first step of breaking a bond (or a flimsy plastic spring) is to stretch it. Thus, a bouncy bond that has a high frequency of stretching is going to be inherently faster to break than a bond that naturally stretches infrequently.
The frequency of stretching of any given bond can be calculated mathematically by using the classic physics equation for stretching a spring with a mass attached to both ends. I'm going to skip overcan't say I understand it completely anyway that math, but suffice to say that the weight of the two end pieces is an important term in the equation. The stretching frequency is inversely proportional to masstechnically to the square root of the reduced mass, so stretching becomes slower as the mass at either end becomes heavier.
Thus, since deuterium is twice as heavy as hydrogen, a bond involving deuterium has a lower stretching frequency than one involving hydrogen. This makes it slower to break.*
It turns out that the difference in bond-breaking rate can be pretty serious just from this tiny mass difference. For example, a carbon–deuterium bond can be 6.5 times slower to break than a carbon-hydrogen bond.** No wonder deuterium throws off the timing of cellular chemical reactions!
But There Is Still (Meager) Hope for a Heavy Mouse
OK, so replacing all the hydrogens in a mouse's body with the twice-as-heavy deuterium won't work because of the kinetic isotope effect. But maybe we could still play with isotopes of a different atom.
All the carbon in a mouse body, which is mostly 12C, could theoretically be replaced with 13C. Whereas deuterium weighs 100% more than hydrogen, 13C only weighs about 8% more than the naturally abundant 12C. Thus, maybe this relatively small difference in mass wouldn't be enough to slow cellular bond-breaking processes down to the point of failure.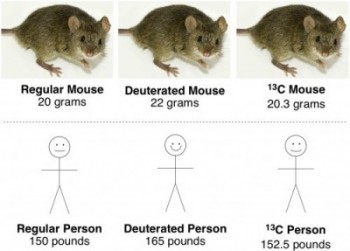 Downside number one, of course, is that a 13C-labeled mouse wouldn't be as noticeably heavier than a deuterated mouse. Carbon makes up about 18% of the mass of a mammal's body. If 13C weighs 8.3% more than regular 12C, then a 13C-labeled mouse would only weigh about 1.5% more than a regular mouse – a 20 gram mouse would weigh 20.3 grams. This is like a 150 pound person gaining two and a half pounds. Which isn't nearly as impressive as 15 pounds.
Downside number two is that a 13C-labeled mouse would be obnoxiously expensive. 13C-labeled glucose (sugar) costs $114.40 per half a gram if you buy it from Cambridge Isotopes. I'm pretty sure a mouse can eat like 3 grams of fooddo mice like to eat sugar? a day. At that price, the mouse might as well be eating three meals a day at the French Laundry for its entire life.
*(The stretching frequency plays into the equation used to calculate the zero-point energy of a bond, which relates to how "stable" the bond is and how much energy has to be put in to break it.)
**Homolytic bond cleavage at 298 K, assuming a C–H bond with IR stretch of 3000 cm-1, assuming complete bond-breakage at the transition state. Reference: Ansyln and Dougherty.