I interrupt this blog from its regularly-scheduled hiatus* to comment on a new tidbit of information about Brazilian Blowout that has recently come to light. The FDA has issued an official warning letter to Mike Brady, the CEO of GIB, LLC (aka Brazilian Blowout), citing two major violations of their original BB product. Namely, the FDA declares Brazilian Blowout to be (1) an adulterated cosmetic and (2) a misbranded cosmetic.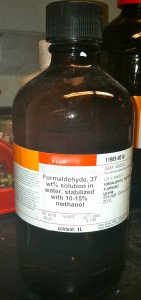 The warning letter is fairly straightforward. The original BB hair straightening formula is described as "adulterated" because it contains an ingredient that is potentially harmful when the product is used as prescribed. This ingredient, of course, is formaldehyde (aka methylene glycol). Secondly, the product is misbranded because it claims to be formaldehyde-free when… it isn't.
Clearly BB needs to cease the "formaldehyde-free" branding, but should they pull the product from the market? A lot of people really like the results of the original formula, and are willing to pay large sums of money to get their hair straightened this way. Notably, the newer Brazilian Blowout Zero product, which truly doesn't contain formaldehyde, doesn't seem to work like the original, at least according to numerous comments on this earlier post.
The way I see it, there are two questions that need to be answered:
(1) Is there a ventilation technique that will enable use of this product without hazard to the stylist or the customer during the application? (2) After the customer leaves the salon, do formaldehyde fumes continue to be expelled from the hair over the course of hours, days, or weeks? If so, are the fumes in levels high enough that there should be a health concern? If the answers to these questions are (1) yes and (2) no, then Brazilian Blowout's problems with the FDA should be reconcilable in a way that all parties can be happy.
Here is my suggestion for how to ensure safety for the stylist, customer, and other nearby persons during application of Brazilian Blowout. I think it's pretty self-explanatory, especially if you've ever used a glovebox. Make it pink or something, so maybe it won't scare the customers away: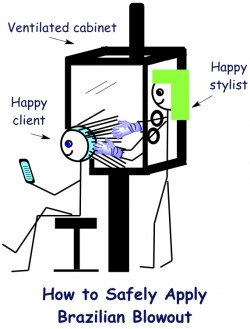 *I have now begun the last year of my PhD program, so spare time has become very scarce (i.e., nonexistent) over the last few months. As a result, unfortunately, this blog has gotten pushed to the wayside. I miss it dearly, and hope to be able to get back to it when things settle down. I've never gotten a PhD before, so I'm a little unclear on when exactly things "settle down", but they've got to sometime (right?).