It's been a while since we heard news about Brazilian Blowout, the controversial hair straightening treatment that brings up the philosophical question "What does it mean to be formaldehyde?"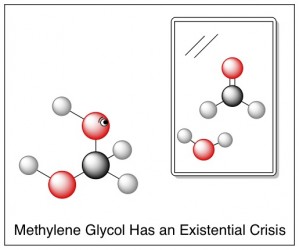 But now the company has announced a new hair straightening product, Brazilian Blowout Zero, that is formulated without methylene glycol.
If you're unfamiliar with the back story, Brazilian Blowout is a salon hair treatment acclaimed for leaving hair looking sleek, healthy, and frizz-free. It's all the rage in Hollywood. The company claimed that their product was formaldehyde free, but complaints from salon professionals prompted an investigation by OSHAOccupational Safety and Health Administration; in this case Oregon OSHA. It came to light that the product was packed full of methylene glycol, which is the structure formaldehyde takes on when dissolved in water. When water is removed from methylene glycol (e.g. by drying hair), it converts back to formaldehyde. A huge argument ensued in which BB argued that methylene glycol doesn't/shouldn't count as formaldehyde, various parties are suing each other, etc. etc.
Although Brazilian Blowout emphasizes that they are not surrendering their stance, they are nevertheless announcing a new formula that doesn't contain methylene glycol (and thus, no formaldehyde either). They claim that this version, called Brazilian Blowout Zero, gives the exact same results as the original formula. Which it had better, considering its hefty price tag.
Is this stuff legit? Scanning through the list of ingredients, (which is accessible from the MSDS on the BB website though you have to register with them), I really don't notice anything that looks like camouflaged formaldehyde. But the problem is… don't you kind of need formaldehyde for this stuff to work properly? It makes sense that formaldehyde would smooth hair. Formaldehyde can react with free amino groups to join hair proteins together, which seems like it would even out the surface of hair strands.

Without formaldehyde, I'm not sure what chemical reaction would occur that could smooth your hair for 12 weeks. Sure, there are several silicones and other polymers that could coat your hair and make it look slick, but these seem to be common shampoo/conditioner ingredients that should be gone after a few washes. Any other ideas?
Here are the ingredients in the old vs new formulas, side by side (click image for bigger view).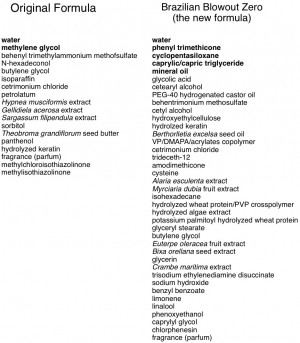 Brazilian Blowout is not recalling their original formula; instead, they are offering the Brazilian Blowout Zero formula as an "alternative" for those whose "personal preference" is for a methylene glycol-free formula.