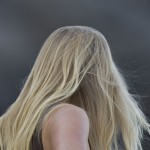 Having no reason to do my hair since I'm in lab all day Having naturally straight hair, I don't usually pay attention to trendy methods of hair-straightening.  Until yesterday, that is, when a colleague pointed out a Fashionista article to me about the "Brazilian Blowout." For those of you who don't know what this Blowout is (like me about 24 hours ago), it's a "keratin treatment" popular with celebrities that will give you "smooth, healthy, frizz-free hair with radiant shine!"
Currently the Brazilian Blowout is under intense scrutiny because OSHAOccupational Safety and Health Administration and Health Canada recently found levels of formaldehyde up to 12% in the Brazilian Blowout hair product.  This is 60 times the recommended "safe" levels of formaldehyde for hair products (0.2%).  Brazilian Blowout (the company), however, claims that their product doesn't contain formaldehyde.  They've been in a back-and-forth exchange with OSHA, and one of their rebuttals to the health and safety officials is particularly funny.
Brazilian Blowout claimed that OSHA's reports were unreliable because they tested for methylene glycol, not formaldehdye.  Now for those of you who don't know chemistry nomenclature, methylene glycol is basically just another name for formaldehyde.  If Brazilian Blowout puts "methylene glycol" into their hair product solution, then, yes, their formula contains formaldehyde.  (You'd think Brazilian Blowout would have had their lawyers/scientists check on that before they blew up at OSHA… or before they marketed their product as "Formaldehyde Free").
The news media is having a tough time with this concept.  Says the Fashionista article author:
I decided to consult an expert. I spoke to a PhD organic chemist with more than 20 years of experience in the pharmaceutical industry about the chemical properties of formaldehyde. After an informative lesson on carbonyl structure, he said, "The long and short of it is that methylene glycol equals formaldehyde, period, get over it, done, move on."
Unless you've taken/understood organic chemistry, it probably won't be immediately obvious why methylene glycol = formaldehyde.  You see, methylene glycol is really just the name for formaldehyde dissolved in water.  Here's an explanation that takes into account chemistry terms that most people are familiar with (even if they don't realize it).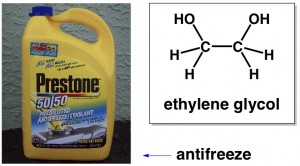 You've probably heard of ethylene glycol. It's antifreeze, like what you might put in your car.  If you look at its chemical structure, you will see two "OH" groups attached to carbons.  Whenever you have two OH groups like that, you can call the molecule a "glycol".  In organic chemistry naming, the prefix "eth" always indicates that there are two carbons in whatever molecule or section of a molecule that is being named.  In this case, the name "ethylene" reflects the fact that there are a total of two carbons in the molecule.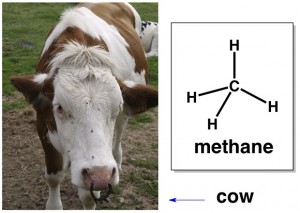 You've also certainly heard of methane.  It's a greenhouse gas, cows are major producers, etc. If you look at methane's chemical structure, you'll notice that there is only one carbon.  The prefix "meth" is always used in organic chemistry to indicates that there is just one carbon in the molecule or section of a molecule. (The street drug "meth" has its nickname derived from a particular portion of the drug molecule that consists of a single carbon.)
So, if we take the prefix "meth" and the word "glycol" and try to turn it into a structure like ethylene glycol but with only one carbon, it would have to look like this:
Finally, let's look at formaldehyde.  Formaldehyde's structure is shown below, but the instant you mix it with water, it combines with water to make methylene glycol. Water is colored red in the scheme below so you can see where the atoms from water stick onto the formaldehyde.  Importantly, the reverse reaction happens really easily too, in which methylene glycol turns into formaldehyde (+water).  Individual molecules of formaldehyde quickly turn into methylene glycol, but then quickly turn back into formaldehyde, then back into methylene glycol, and back and forth forever.  Methylene glycol can be called the "hydrate" of formaldehyde.  Like it sounds, a hydrate is basically a molecule's structure when it has "soaked up" water.  Since water is everywhere (including hair products, the air, and our bodies), a test for methylene glycol means the same thing as a test for formaldehyde.

I will leave you with a final quote from the Fashionista article.  I'm all for non-chemists being impressed by the wonders of science… so I almost don't want the author of this quote to ever figure out that she's talking about a rather fundamental property of chemistry:
[The PhD chemist with 20 years of experience] also told me that there are chemicals that can be put into solution that when heated, turn into formaldehyde quickly. So a chemical that is not technically formaldehyde in solution, can turn into formaldehyde. The miracle of modern chemistry.