For most animal species, males must compete with one another to win the attention of a female. This competition can involve active sparring – for example, bighorn sheep will sometimes clash heads over a lady sheep. For other animals, such as the peacock, the competition is more about attractiveness than about fighting ability. Good looks can help for human males too, though sometimes all it takes is a display of better-than-average grammatical skills.
So if more attractive guys have a better shot at getting the girl, and hence at having (attractive) babies, shouldn't the population as a whole be getting more handsome with every generation?
Well. . . it's not, and it doesn't. A study published this week in PNASProceedings of the National Academy of Sciences demonstrates that the percentage of attractive male flies in a given population eventually reaches a plateau. Though attractive males have a mating advantage, the frequency of attractive genes in a population reaches a limit. In other words, even though the unattractive flies might have less of a shot at making babies, there will still always be unattractive flies.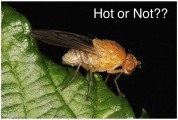 Attractiveness is complex and subjective for humans, but it's much more straightforward for flies. Male flies (specifically, male Drosophila serrata) emit pheromones that females find attractive. These pheromones are really eight different hydrocarbons produced by the males' bodies.  For the chemistry-interested, hydrocarbons are chemicals that consist of just hydrogen and carbon – for example, gasoline is mostly a mixture of hydrocarbons (such as octane). The fly hydrocarbons are each longer molecules (≥ C25) than those found in gasoline, but the idea is the same.
The females prefer to mate with the males that give off the most "pleasant-smelling" (in fly terms) set of pheromones. The exact composition of these pheromones (ratio of hydrocarbons) depends on genetics, so a good-smelling fly is likely to father good-smelling sons.
By controlling which baby flies got to live and breed over 10 generations, the researchers in this study were able to develop a population of flies with an unusually high number of attractive males. They then brought in a bunch of regular flies and watched to see how well the attractive males were able to compete for the females. In theory, the good-smelling flies should be able to outcompete the stinkier ones, eventually populating their fly world with only attractive fly babies.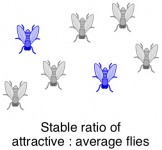 At first, the super-attractive males were more successful at breeding than the others, but eventually (after 7 generations), the percentage of attractive flies in the population leveled off. For the next four generations, until the researchers ended the study, there were always about 5 unattractive male flies for every 2 attractive ones (that number is based on just one gene allele in particular).
The researchers theorize that the plateau in attractiveness in the population is due to some unknown survival disadvantage for attractive males. In other words, having the good pheromone genes causes the flies to die or become sterile at an earlier age, on average.
Flies, obviously, are not humans. Nevertheless, could one imagine analogous situations in which being attractive has disadvantages for humans?
Citation:
Hine, E., McGuigan, K., & Blows, M. (2011). Natural selection stops the evolution of male attractiveness Proceedings of the National Academy of Sciences DOI: 10.1073/pnas.1011876108