A simple Google search for a product or service usually unleashes a flood of sources both denouncing and celebrating it. The chatter accompanying food, health, or beauty products/procedures is often intimately tied to the science of chemistry. Unfortunately, most consumers have only a minimal or nonexistent background in chemistry, so wading through the mess of propaganda can prove near impossible.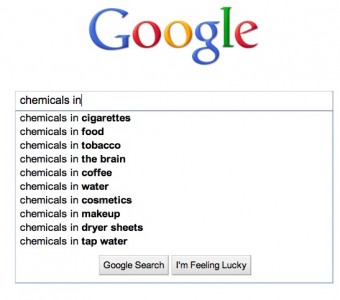 Lately I've been keeping up with the formaldehyde controversy surrounding a "miracle" hair straightening product called Brazilian Blowout. This controversy exemplifies the confusion that chemistry tends to leave in its wake. As I've followed this misunderstanding play out on the interwebs, however, I keep noticing a disturbing knee-jerk reaction to the formaldehyde revelation, something along the lines of:
OMG it contains formaldehyde, you HAVE TO AVOID all hair products that contain any formaldehyde or ANY OTHER 'HYDE', everything needs to be all natural and all organic and CHEMICAL–FREE ! ! !
This opinion is nearly as extreme as the claim that methylene glycol is perfectly safe. Thus I've been musing about how the average consumer is supposed to deal with all the opinions that they're bombarded with. No one wants to be irrational, but the majority of information available to the public whispers (or screams) "Draw a hasty, confused, fear- or hype-driven conclusion, NOW!"
Over the next week or two, I'm going to try to write a little series of posts on navigating the language of chemicals surrounding products or services. Maybe it'll be helpful to someone, but at the very least I'm looking forward to struggling with these ideas for myself. Here's the tentative plan:
Part 1: What is and isn't a chemical?
Part 2: Myths, hyperboles, and buzzwords about chemicals.
Part 3: Reliable information is written respectfully.
These won't necessarily be my next three consecutive posts, but they're on their way. Meanwhile, here's my take on the best way to get started researching the chemicals in a product:
Step One: Stay calm. Don't get too excited about a product, and don't get too freaked out about it either. Try to avoid a knee-jerk reaction to what you read.
Step Two: Be aware of the presence of buzzwords that could be distorting your perception of the facts. Many such words have negative or positive connotations that put a spin on a statement, whether intentionally or not.
Step Three: Try to figure out if there is legit primary research – like with controls, published in a respectable journal – that supports claims made about the safety/dangers of chemicals in a given product. Beware of claims that aren't corroborated by data.