A Question
I begin this post with a serious question, particularly for non-chemists. If I say the following to you, does it make sense?
I would love to be done with my taxes by now, but there's such a high activation barrier to getting starting that I keep putting them off.
Is "activation barrier" something people say?! I mean, is that a thing?
I'm concerned that it's just a chemistry term that somehow crossed over into my normal everyday English vocabulary. I spend 99% of my time with other chemists, for whom this phrase is perfectly commonplace, so I may be a tad out of touch with how the rest of society speaks.
Feeling linguistically disoriented, I sought feedback from my mom, who is not a chemist. Here's how our conversation (via Google chat) went: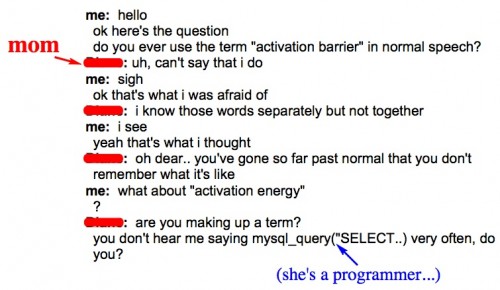 My mom's response suggests that "activation barrier" is not a common slang phrase in the English language. She may not be up on all the trendiest lingo, so I also checked the super reliable Urban Dictionary. There is currently no entry for "activation barrierThey do have an entry for 'activation energy', but it's just a chemistry definition, not slang". If Urban Dictionary doesn't have it, then the phrase must not be in common use. (right?)
Explanation of an Activation Barrier
To my mind, at least, the chemistry concept of an activation barrier has a lot of parallels in real-life. So it's worth explaining what this idea is.
In chemistry, an activation barrier is a concept intimately related to energy. Energy is, admittedly, a rather nebulous notion. It's the ability to do stuff (rather than just be idle). A person with a lot of energy can run around all day long, but a person without a lot of energy might prefer to spend the day in bed. Hummingbirds and tortoises work well as examples of high- and low-energy entities.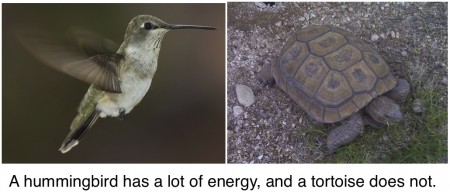 Like people or animals, molecules have energy. Some molecules inherently have more energy than others just because of their structure. On the other hand, molecules can be "given" more energy by, say, heating them up. Or shaking them up, or sometimes even by shining light on them.
One of the fundamental laws of physics2nd law of thermodynamics, I think? dictates that molecules are always trying to get rid of energy and become less energetic. Less energetic = more stable.
Let's say that molecule A inherently has a lot of energy, and molecule B inherently has less energy. If there is some way for molecule A to undergo a chemical reaction to become molecule B, it's going to want to try. However, for molecule A to become the lower-energy B, it first has to muster up a little bit more energy than it already has. That extra bit of energy is called the activation barrier to the reaction.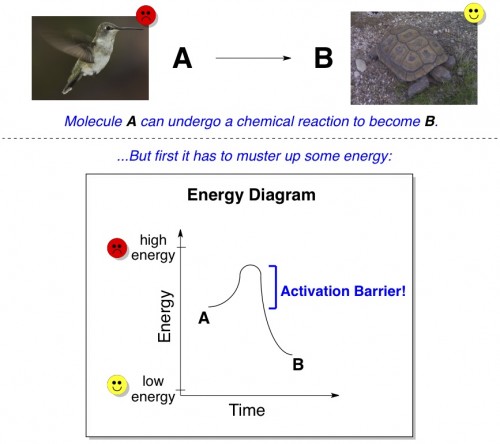 We are very lucky that some chemical reactions have extremely high activation barriers. For example, all organic molecules, such as those composing our bodies, consist primarily of carbon, oxygen, nitrogen, and hydrogen atoms. Our body's molecules could undergo reactions that would rearrange all the atoms to become much more stable molecules – CO2 (carbon dioxide), H2O (water), and N2 (nitrogen gas).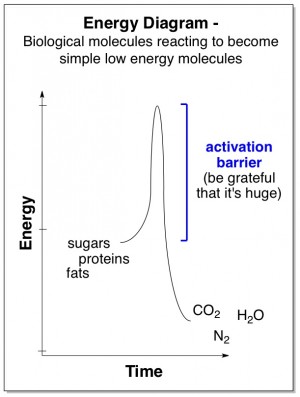 Fortunately the activation barrier to this reaction is very very high. It would take a huge amount of energy input (e.g., temperatures as hot as a fire) to allow our bodies' molecules to undergo this reaction within a normal period of time.
This concept is quite analogous to real-life. Let's say that you are at home, and you wish that you had some ice cream. You would feel happier (more stable) if you were eating ice cream… but first you'd have to put your shoes and coat on and drive all the way to the store, and it's just not quite worth all the fuss. The unpleasant requirement to expend energy driving to the store is the activation barrier to you acquiring ice cream.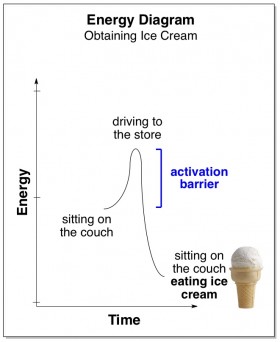 Proposed Update to the English Language
So, all that being said, I'd like to argue for the introduction of the term "activation barrier" (and its derivatives) as a normal idiom in the English language: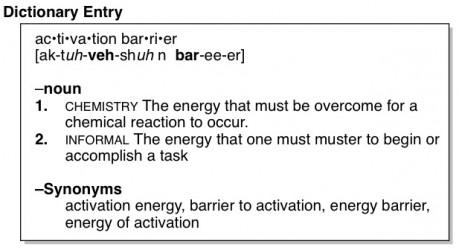 This phrase should be in common use for the following reasons:
(1) It's a highly useful expression (see Sample Sentences, below). It can convey a meaning more precisely and clearly than some other vocabulary choices.
(2) If common language drew more expressions from scientific jargon, it might help to demystify the whole science thing for the layperson.