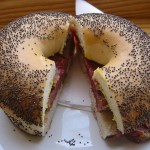 You've heard the warnings – don't eat poppy seeds before taking a drug test. The seeds can trigger a false positive reading for opioids, making your potential employer think you could be a heroin addict. A few years back, Mythbusters reproduced the anecdotes, showing that just two poppy seed bagels was enough to make Jamie test positive for drugs. (Other studies have shown the same thing.)
Morphine Vs. Heroin
The problem with poppy seed bagels is that the seeds contain a small amount of morphine, which just so happens to be one of the byproducts of heroin (diacetylmorphine) metabolism. Drug tests look for small amounts of residual morphine in urine as an indicator of recent heroin use. It's easy to see the similarities between the two chemical structures: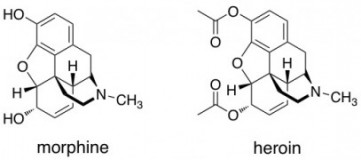 The structural similarity is actually no coincidence. Heroin is produced from morphine, which in turn is isolated from none other than the poppy plant. Back around the turn of the century (1900 ± a few years, that is), heroin was first synthesized in the laboratory from morphine. The new drug was actually marketed by Bayer as a non-addictive treatment for morphine addiction, until it was discovered that it actually is addictive. And that it turns into morphine in the body. Oops.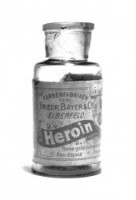 Fortunately, it's possible to test for another metabolite of heroin – 6-monoacetylmorphine – that isn't found in poppy seeds. The absence of this compound in a urine test would suggest that trace morphine didn't come from heroin.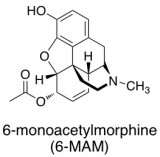 Can You Get a Full Dose of Morphine From Poppy Seeds?
Morphine itself can be administered (by licensed professionals) as a prescription painkiller. Though it's more commonly given intravenously, it is also available orally as a tablet. A standard oral dose consists of about 10 to 30 mg of morphine. Is it possible to get a full dose of morphine from eating poppy seeds?
One report in the Journal of Forensic Sciences found that the morphine content of poppy seeds varies widely with poppy seed source. Spanish poppy seeds seem to have the most morphine – about 251 micrograms of morphine per gram of seeds. This translates to about 0.025% morphine by weight.
Thus, to get a medically relevant dose of morphine (10 mg) from Spanish poppy seeds you would have to consume…

About 40 grams of poppy seeds! It seems like a lot, but how hard would that actually be? A standard baking conversion for dry ingredients is about 8 grams per tablespoon, and one poppy seed bagel probably has, what – a teaspoon or two? By that math, you'd probably have to eat around a dozen poppy seed bagels all at once.

However, this delicious looking cake recipe calls for an entire cup of poppy seeds, or approximately equal to 128 grams! Granted, the recipe yields 10 to 12 servings, but one would only have to eat 3 or 4 slices of this Bundt cake to get up to a full prescription dose of morphine! (If the most potent poppy seeds were used.)
Do note that I'm not advocating that anyone try this. Besides the fact that such an experiment is sketchy (morphine is a controlled substance, after all), most types of poppy seeds contain much less morphine than the Spanish seeds cited above. Like, 100 times less. If you're dealing with, say, Turkish poppy seeds, you might have to consume dozens of poppy seed Bundt cakes to get a medically relevant dose of morphine. Not to mention that the oral bioavailability of morphine in poppy seeds may be different that that of morphine in tablets (which is technically morphine sulfate).
Secondly, poppy seeds are not low-cal. Even the most morphine-rich ones would cost you around 250 calories of seeds alone to get a minimal dose of painkiller. Combine that with the calories of the cake they're baked into, and I'm thinking you're gonna need Pepto-Bismol instead of morphine.
Ah, fun with math and chemistry : )