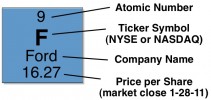 While researching investment choices for my new I'm-trying-to-be-a-responsible-adult Roth IRA, I eventually grew impatient with analyst predictions and just started searching for interesting ticker symbols. Since Pdpalladium is my favorite metal, it stands to reason that I should own a stock named PD. Unfortunately, that stock symbol doesn't exist. However, it turns out that over half of the element symbols on the periodic table do double as ticker symbols on US exchanges (NYSE or NASDAQ).
So here I present a brand new investment strategy that Warren Buffett completely overlooked! If so inclined and financially enabled, one could collect the entire periodic table of stocks – talk about a diverse portfolio! Click the image for a larger view.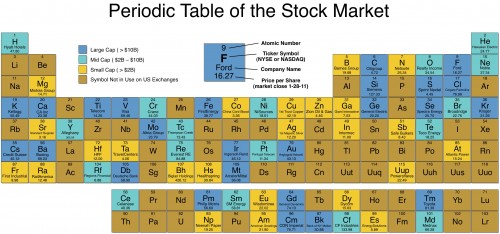 The Highlights:
Though not all elements are represented, you can own the basics of organic chemistry – C, H, N, and O – by buying Hyatt Hotels, Citigroup, Netsuite, and Realty Income Corporation.  So if you wanted to own glucosea sugar, C6H12O6, you could buy six shares of Citigroup, twelve shares of Hyatt, and six shares of Realty.
Only the stocks in group 11 (CuCopper, or First Trust ISE Global Copper Index Fund, AgSilver, or First Majestic Silver Corp., AuGold, or AngloGold Ashanti Limited) were named intentionally to match an element symbol.
Disclaimer: I am NOT a financial advisor. And I actually haven't bought any of these stocks. Except fluorine.