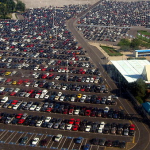 Sometimes it seems like all the junk accumulated in our memories makes it harder to remember new things. For example, if you drive in to work every morning and have to hunt for parking, it may be difficult at the end of each day to remember where exactly you left your car. Your memory of parking that morning is clouded by all the competing memories of mornings past.

Researchers at Stanford decided to see if they could visualize "competing" memories by doing brain scans. They were curious if they could tell by fMRIFunctional Magnetic Resonance Imaging whether a person was recalling an independent memory or if they were recalling a memory that was clouded by similar memories. They published their results in PNASProceedings of the National Academy of Sciences this week.
The authors showed a bunch of volunteers a series of photos, one at a time, on a computer screen. Each photo was paired with a seemingly unrelated noun, written just above the photo. For example, the photo could be of Snooki, paired with a noun like "Lamp". Each photo was of a famous person's face or of a famous scene (a building or a landscape), and had a caption – just in case the viewer wasn't sure who or what the person/scene was. The photos looked something like this: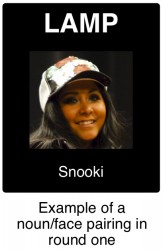 After several such photo/noun pairs, the participants were quizzed. They were prompted with the nouns that they'd seen (e.g., lamp) and asked to recall who or what the noun had been associated with. The participants answered by pushing one of five buttons that corresponded to "I don't know", "It was a face but I don't remember what it looked like", "It was a face and I remember what it looked like", "It was a scene but I don't remember what it looked like", or "It was a scene and I remember what it looked like."
Once this quiz was done, the participants were given a new round of photo/noun pairs to look at. In this second round of photo/noun pairs, some of the nouns were reused from the earlier round but were paired with a new face or scene. (The recycled nouns were paired with a scene if they'd been paired with a face in the previous round, and vice versa.) The rest of the nouns were new and hadn't been used in the first round. All of the photos were new.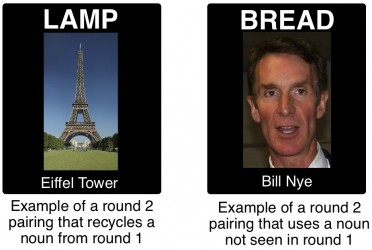 After the second round of photos/nouns had cycled through, the participants were then quizzed again. They were told that if a noun had shown up in both rounds, to forget what it meant in the first round and just focus on its pairing in this second round.
All the while that the participants were looking at photos and answering the quiz questions, the researchers had them hooked up to an MRI instrument and were recording their brain activity. It is already known that the locale of brain activity (specifically within the ventral occipitotemporal cortex) changes slightly when someone is viewing a picture of a face versus a picture of a scene. Thus the researchers were able to tell the difference, just by brain imaging, between a participant looking at a picture of Snooki versus a picture of the Eiffel Tower.
They found that they could also tell the difference in brain activity between a person remembering Snooki versus remembering a scene of the Eiffel Tower. That is, brain activity is different between faces and scenes not only when taking in a stimulus, but also when trying to recall that stimulus.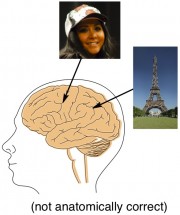 Finally the researchers compared brain activity when answering different quiz questions. In the quiz following round two, it was easy for the researchers to tell by MRI if the participant was recalling a face or scene if it had been paired with a new noun. Thus, if the participant was asked to recall the photo paired with "bread", the researchers could tell that the person was thinking about a face (using the Bill Nye example above).
However, when asked to remember a photo that had been paired with a recycled noun, brain activity was kind of ambiguous. Even when the participant was able to answer the question correctly, it was harder for the researchers to tell by MRI whether they were remembering a face or a scene. Thus, when asked to remember the round 2 photo paired with the word "lamp", brain activity showed up in both the face and scene regions – even though the participants usually were able to correctly state that "lamp" had most recently been paired with a scene (Eiffel tower).
This result confirms the notion that old memories can interfere with more recent ones, and provides a tangible way for neurologists to observe memory competition. Unfortunately, however, it does not offer a solution to the parking space problem.
Citation:
Kuhl, B., Rissman, J., Chun, M., & Wagner, A. (2011). Fidelity of neural reactivation reveals competition between memories Proceedings of the National Academy of Sciences DOI: 10.1073/pnas.1016939108