For the Super Bowl this year, I made one my favorite recipes – fresh salsa. Someone with timei.e., not me on their hands could write an entire textbook chapter about the chemistry of salsa, but here's a little Cliff Notes version. Warning: it's not all appetizing, especially if you're a cilantrophobe.
Onions. You can't leave onions out of a good salsa, which unfortunately means that you're going to shed a few tears. The primary eye-stinging culprit in chopped onion is the volatile molecule below, called syn-propanethial-S-oxide. If you must avoid crying, mince your onions in a fume hood.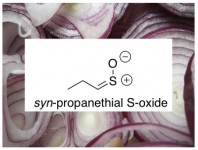 Cilantro. I love cilantro, as do the rest of my family members. But some people absolutely despise the stuff – there's even a facebook group called "I HATE CILANTRO". Apparently a lot of cilantro haters are genetically predisposed to perceive its taste as soapy rather than delicious and refreshing. Others perceive the flavor as "buggy" (ew). A hodgepodge of long-chain aldehydes (analyzed by GC/MS) contribute to the taste and odor of this herb, such as the ones below.

Most notably, the amount of 2-decenal (in red) increases dramatically during and after the flowering stage of the cilantro plant. 2-Decenal is a molecule that has also been found in the defense secretions of insects (I just lost my appetite). Therefore, it is best for cilantro to be harvested before it flowers, so that levels of this objectionable aldehyde remain low.
Hot peppers. Most of the heat of peppers (I use serranos) comes from an organic molecule called capsaicin. If you love hot food, you can buy the t-shirt.

This molecule is pretty hydrophobic, which means that it's better at dissolving in oil or other organiccarbon-based liquids than in water. For this reason, chugging water does very little to cool a burning tongue. If you want relief, you've got to drink milk or have a bite of yogurt or well-buttered bread. These dairy products contain fats (organic, greasy molecules) that help carry away the capsaicin. You can also drink a spoonful of oil, but that seems to negate the healthiness of salsa.
Garlic. Raw garlic has a good kick to it, which can be largely attributed to a molecule called allicin. If anyone wants to be a super chemistry nerd, this would be a good name for your daughter. When you heat garlic, allicin and other odorous molecules break down, so cooked garlic isn't as pungent as raw.