As a new year begins, so do new diet plans. Many diets encourage replacing sugar with artificial sweeteners as a way to cut calories. So what's really in those pink, blue, and yellow sugar-substitute packets?
Well, most of the content of the artificial sweetener packets is filler material. The actual sweetener molecules are so sweet that you need only a tiny amount, so producers add some extra material (dextrose or maltodextrin) to bring the volume of the packets closer to what you're used to with sugar.
The sweetener molecules themselves all look pretty different. But to begin with, here's the structure of real sugar (aka sucrose):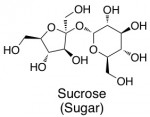 Now let's compare the structures of the major artificial sweeteners.
Sucralose (Splenda)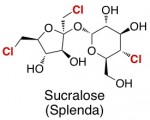 In sucralose's structure, you can see why Splenda says its "made from sugar, so it tastes like sugar." The structure is nearly identical to sucrose, except that three "OH" groups have been replaced with chlorines. This change may look small, but it has a dramatic effect on the molecule's properties.
This substitution does a couple of things. It makes the "sugar" taste much sweeter, so you need to eat significantly less of it. Secondly, because alkyl chlorides (molecules containing carbon–chlorine bonds are quite rare in nature), the molecule confuses your body's enzymes, and they can't figure out how to break it down for energy (or calories).
Aspartame (Nutrasweet, Equal)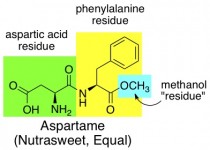 The structure of this molecule looks fairly innocent (which doesn't necessarily mean anything). It comprises two naturally occuring amino acids, joined together and then capped off with a methyl group. Amino acids are the building blocks of proteins, so your body is pretty familiar with metabolizing structures like this. Your body actually can convert aspartame into energy, so this sweetener is not technically zero-calorie. However, a serving size of aspartame is so small that it contains negligible calories, since aspartame is so very sweet.
Saccharin (Sweet'N Low)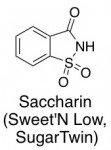 To me, this one is kind of an odd ball. It doesn't really look like a sugar or a protein, or really any common biomolecule. It looks more like a small molecule that one would find in a chemistry lab (maybe for a Pd-catalyzed diamination).
Safety concerns about all of these artificial sweeteners have been brought up, so it is worth some investigation before you start consuming them in large quantities.