Here's a random assortment of holiday cheer, with just a hint a big dollop of chemistry nerdiness.
Greetings from the periodic table. . .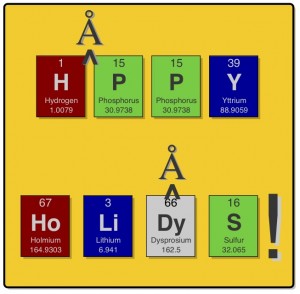 If Santa were a chemist. . .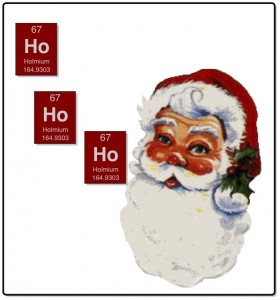 This Christmas tree "ornament" started as an accidental etching of a round bottom flask during my first semester of research as an undergrad (oops).  But then my advisor let me turn it into an ornament; we intensified the frosted look by filling it with aqueous KHF2 and letting it sit overnight. (It's a 250 mL flask, so it's really too heavy to hang on a tree, unfortunately.)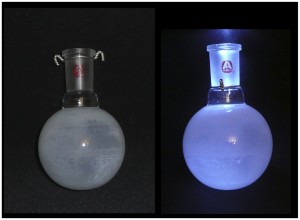 Lastly, if you want some tips on how to keep your Christmas tree looking fresh, NPR had a story earlier this month – you can read the transcript here.  To summarize the non-intuitive points:
•  Keep your tree away from fruit, especially bananas.
•  Leave the lights on for the tree, even at night.
Merry Christmas!!!