In stark contrast to the Bieber-obsessed Wii-playing youth of today (and I mean that in the nicest way possible), here is a direct quote from an article written in the 1920's:
"More and more the students are learning science out of school. . . . now we have kids talking about electron streams and metric wave lengths as they skate along the streets."
[Stunned silence] For real?! This sounds like a wistful lunchtime daydream of a devoted science educator! But apparently the 20's were quite a bit different than the 2010's. Science used to be cool.
I don't think it was just that kids were more thoughtful or focused. Like today's youth, kids back then jumped on the bandwagon of what everyone else was doing. They too probably sacrificed homework to indulge in hobbies, forgot to pick up after themselves, and most certainly annoyed the pedestrians and horse-drawn/horseless carriages in the streets with their reckless rollerskating and raucous chatter about electrons.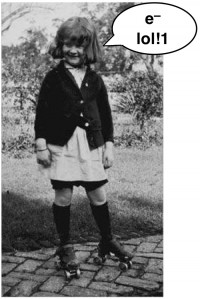 It just so happened that the focus of their enthusiasm, the trendy thing to do, was… science. Not necessarily because it was science, but because a working knowledge of science allowed them to have a very cool toy.
A radio.
"I fancy it would have taken many years for the new theories of electricity to have been incorporated into the common mind if the radio had not come along to help out the teacher."
Radios today, of course, are a dime a dozen. You don't have to build your own radio. And really, what's a kid going to do with a radio nowadays anyway? Now it's video game consoles, cell phones, and MP3I always want to superscript the 3 in mp3, like sp3 players. There's no such thing as a build-your-own iPhone, and even if there were, no kid would build it if it's accessible ready-made.
If we want science to be better assimilated into our culture, it makes sense to target young people. We often think about this in terms of improving our education system, but I maintain that we also really need to think outside the formal-education box.
We need a modern day radio. This 21st century "radio" should meet the following criteria:
(1) Science principles must be learned to some extent for success.
(2) It can't be accessed (easily) through alternative means (e.g., purchasing)
(3) It has to allow you to do something astonishing, like the radio would let you hear voices from afar (no longer astonishing).
(4) It has to be relatively safe.
Currently the only popular hobbies I can think of that meet requirements 1 – 3 fail on requirement 4 (dangerous, at least from a legal perspective). One involves horticultureillegal, and the other involves basement chemistryillegal and dangerous. And hopefully youth aren't doing either one.
Any other ideas? I feel like smartphone apps might be a place to start, but that vague notion is all I've got…
P.S. The source of these quotes is the very first article in the very first issue of the Journal of Chemical Education (January 1924). This article has some other quotes that, though not really relevant to the topic of this post, are also delightful:
"New ideas explode like T N T and shatter the confining walls." (how poetic!)
"No professor can now maintain a monopoly of his own profession. He will often meet with men who know as much as he does about his science and yet have no title in front of their names nor degrees trailing after them." (um… this doesn't really ring true today. At least, I've never heard some random guy at the bar talk about olefin metathesis like my advisor can talk about olefin metathesis)
"May I remind the chemists in conclusion that we have more difficulty in getting "good" copy in chemistry than in any other science. We can get any number of interesting "stories" about stars and stones, about clouds and complexes, about insects and Indians, but there is a strange dearth of writers on chemistry, although there is, as we realize, no subject that touches human life at more points, none that has a longer or more romantic history, none that is making greater progress at present, or that promises more for the future." (Still true?!!)