This is part 2 of a 3 ± 1 part series on navigating the language of chemicals. Read an introduction and part 1 if you wish.
Efforts to make sense of the health and safety information for any given product can be complicated by pervasive buzzwords, hyperboles, and myths relating to chemicals. In order for the reader/viewer to stay calm and think scientifically, it's important to be aware of the presence of these attitude-modifiers.
Buzzwords
If popular writing is tossing around numbers, it's only fair for it to stick to the rules of mathematics. If Ikea lists a $1000 couch as on-sale for $600, they're going to describe it as 40% off. Not 75%, not 12% – the language of basic arithmetic isn't arbitrary. When the word "percent" is used in popular writing, its meaning is identical to its meaning in a mathematics journal.
But for some reason, the language of chemistry is used rather whimsically in popular writing. A newspaper article about preservatives in beef jerky rarely restricts itself to using chemistry terms in a chemically correct way, despite the fact that the article is playing on chemistry territory. The most obvious example is the word "organic", which has been so corrupted that you can now purchase organic sea salt.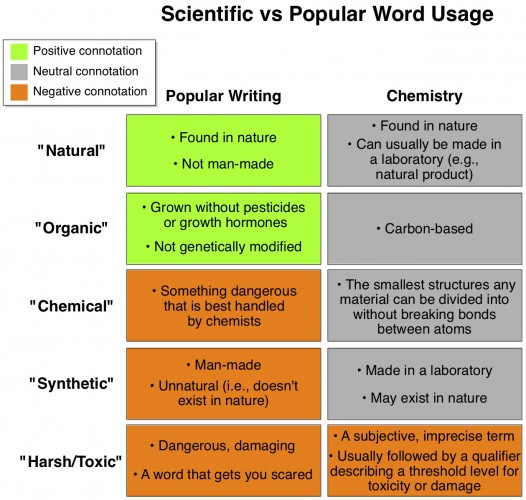 Many of these words carry a positive or negative connotation in popular writing, and can be used to evoke a certain attitude in the reader without necessarily saying anything meaningful. Thus the savvy reader who wants to think rationally and scientifically about the chemicals in their beef jerky should be aware of these chameleon words. Such words may be conveying attitudes and emotions more effectively than they convey actual facts.
Hyperboles
The biggest (chemistry-related) exaggeration plaguing popular communication is probably the insinuation that all chemicals are bad. In my last post, I tried to look at why this hyberbole is just plain silly, and even the least scientifically inclined consumer would likely agree if they sat down and thought about it.
But there's another more subtle notion which, though also hyperbole, seems to be quite widely accepted as fact:
"Some chemicals are always bad."
This blanket statement, though much less ridiculous than "all chemicals are bad", can still undermine one's efforts to think rationally, for the following reasons:
(1) It can't ever be proven.
(2) It can indeed be disproven for individual chemicals.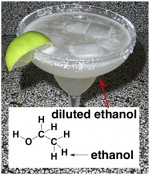 (3) This notion dismisses the important concepts of quantity, concentration, and context.
To illustrate #3 – the importance of quantity, concentration, and context, consider the chemical ethanol (alcohol). When consuming ethanol, it's critical to consider quantity (one drink vs/ 6 or 7), concentration (tequila shots vs. margarita), and context (drinking on the couch vs. in between roller coaster rides at Six Flags).

And to illustrate #2, consider the case of sulfur mustard (mustard gas). Sulfur mustard is a chemical that is very nearly always bad, perhaps closer to being "always bad" than any other chemical. Its historical use as a weapon speaks for itself. Nevertheless, sulfur mustard was one of the very earliest experimental chemotherapies for treating otherwise uncurable cancers. Its success as such was extremely limited, and the negative side effects of sulfur mustard exposure are too awful to warrant its clinical use today. But, in a way, sulfur mustard helped to kick off research that eventually led to more acceptable treatments for cancer.
Myth #1 – "Natural = good and synthetic = bad"
There's an entire genre of organic chemistry that publishes papers entitled "Total Synthesis of the Natural Product Blah-Blah." In such papers, the authors describe the successful construction of a complicated molecule found in nature (usually in a sea sponge or something) in the laboratory starting from small, inexpensive chemicals. The synthetic molecule produced in the laboratory is exactly identicalexcept for 13C abundance, but that's irrelevant to the molecule found in nature. Thus if the natural product Blah-Blah is "good", then so is the man-made chemical Blah-Blah. The properties of a chemical are independent of the path taken to construct it, whether in a lab or in a sea sponge. (Natural product below = palau'amine.)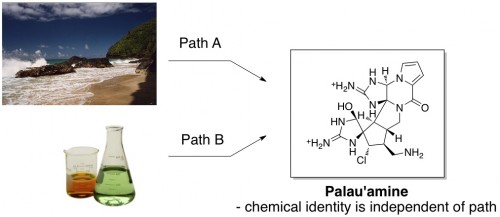 As theyI don't know who 'they' is say, though, every myth has a germ of truth. The basis of this particular myth is the (probably true) notion that it's not healthy to consume a ton of chemicals taken out of the context in which they are naturally found. As one astute commenter pointed out last time, "the whole 'natural'soybean is not frequently associated with health risks, but soy protein isolate has been cited many times." (I don't personally know much about this, but it illustrates the bit of truth in the natural/synthetic myth.)
Thus, if sea sponges were good to eat, that wouldn't necessarily mean that a natural product isolated from a sea sponge (or synthesized in the laboratory) is good to consume in large quantities.
Myth #2 – "If you can't pronounce it it's bad."
Even the most innocent-looking chemical has a beastly sounding official chemical name, thanks to the nomenclature rules developed by IUPACInternational Union of Pure and Applied Chemistry. Table sugar, for example, can also be correctly called:
(2R,3R,4S,5S,6R)-2-[(2S,3S,4S,5R)-3,4-dihydroxy-2,5-bis(hydroxymethyl)oxolan-2-yl]oxy-6-(hydroxymethyl)oxane-3,4,5-triol
Some chemicals, like sugar, are lucky enough to have easily pronounceable common names that serve as an acceptable substitute for their more scientific name. Unfortunately, some chemicals are best-known by names that the other chemicals make fun of on the playground.
Other Stuff. I'm sure there are lots more instances of buzzwords/hyperboles/myths regarding chemicals in popular media. If anyone has any more to contribute, I'm curious to hear!